3DH
Physically visualizing data empowers human cognitive processes and enables us to see what might not otherwise be seen when reviewing more traditional representations. (Chavez 2012:3)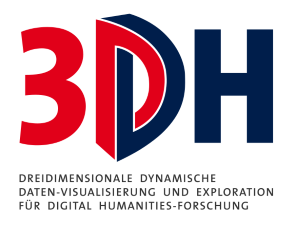 Project outline
3DH is a 3-year pilot project for the preparation of a larger research co-operation in a second phase. 3DH focuses on the dynamic visualization and exploration of Humanities data from a DH perspective, and with particular emphasis on 3D-visualizations. The major goals for the pilot phase are (a) to establish a methodological and theoretical orientation as well as to develop prototypes of visualization tools as demonstrators, and to (b) prepare and submit a funding appliaction for phase 2. Potential funding opportunities include HORIZON 2020-REFLECTIVE 7 as well as the DFG/NEH Bi-lateral Digital Humanities Programme. 3DH phase one is financed for 3 years by a grant provided by Hamburg's Ministery for Science and Research, starting in 2016.
Project start
The 3DH project has officially commenced on 1 February 2016 – for ongoing documentation, please visit the project website. During the Summer semester 2016 (April through July) we will have two distinguished visiting professors and visualization experts with us:
Prof. Johanna Drucker, UCLA – https://gseis.ucla.edu/directory/johanna-drucker/
Prof. Geoffrey Rockwell, University of Alberta / Canada – http://geoffreyrockwell.com/
Welcome to Hamburg, Johanna and Geoffrey – we're very excited about this cooperation!
Also, during the Summer semester 2016 the 3DH project is loosely coordinated with a public lecture series at Hamburg University on "Dynamic Data Visualization in the Humanities", commencing on 7 April 2016 (Thursdays 16-18:00 in ESA J – Code 52-125).
Furthermore, 3DH will also create and use synergies with my seminar II titled "Distant reading' und Datenvisualisierung" (Mondays 10-12 am – Code 52-241)
Project team 2016
Prof. Jan Christoph Meister – PI and project leader
Marco Petris, Dipl. Inf. – RA
Rabea Kleymann, MA – RA
Jana Berens – Student Assistant
Prof. Johanna Drucker (visiting professor Summer 2016)
Prof. Geoffrey Rockwell (visiting professor Summer 2016)