(1 December 1941 – 23 April 2023)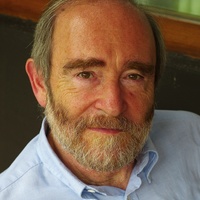 My first meeting with Dino took place at the 1999 ACH-ALLC conference in Charlottesville, Virginia. The conference turned out a memorable event for a number of reasons. Firstly intellectually, because it was at this conference that the controversy on the OHCO- ("ordered hierarchy of content objects") model of text erupted, a controversy soon to be labelled the 'Renear/McGann-debate' after its two American protagonists. Second anecdotally, because John Unsworth, the local host, convinced almost the entire contingent of computing humanists present to float down the James River on car tubes on a sunny afternoon, Dino and myself included. But most of all I remember this as an equally terrific and terrifying experience because of what happened at the very end of the conference, in the final three-speaker slot shared by Dino, Claire Warwick and myself.
Due to a last-minute change in order Dino was appointed as the second-last speaker, and he delivered a paper titled "Text Representation and Textual Models". It was an excellent paper (more on that in a second) and a hard act to follow, and so I went to the front of the room with some trepidation to deliver my own contribution — as chance had it now the very final paper of the entire conference. I had prepared everything as best I could; my notebook with the PowerPoint presentation was set up, my manuscript lay on the lectern, ready to be read. Or so I thought – for when I got there the manuscript was: gone. A couple of very frantic moments later it transpired that Dino had accidentally bagged it at the end of his talk, together with his own manuscript… From then on whenever Dino and I met over the course of the following years I reminded him of the moment he stole my manuscript. This frantic moment was the beginning of our friendship, a friendship that lasted for almost quarter of a century.
Let me fast forward to our very last meeting. This happened in 2020, in the historic Aby Warburg-house at Hamburg University where my colleagues bid me farewell on my retirement with a wonderful symposium. Dino was one of four old-school, 'bedrock' computing humanists who honoured me with their presence — colleagues who, like myself, were already active in the field in the 1980s and 1990s, when it was still known as Humanities Computing (the other three present that day were Manfred Thaller, Willard McCarty and John Bradley). I was deeply moved, and I still remember the private exchange that Dino and I had after the official part had been concluded. I remember Dino's voice, his smile, how he used to raise his eyebrows, everything.
And of course, I do remember Dino for the outstanding philosopher that he was. Like Father Busa and Tito Orlandi, Dino came from an intellectual and cultural background which over the centuries had learned to elegantly and productively bridge a fundamental philosophical divide, namely that between deep theological speculation on the one hand, and Renaissance-inspired methodological curiosity about how one might explore the human condition in novel, undogmatic ways. The paper which Dino presented in 1999 at the ACH-ALLC conference is well worth re-reading in this regard. It was expanded on in his 2002 article in New Literary History titled "Digital Representation and the Text Model" – a seminal publication which I personally consider to be the most thought-provoking and philosophically stringent contribution to the OHCO- and MarkUp-debate to date. Dino came back to the topic time and again, one instance being a panel discussion with Manfred Thaller at the DH 2012 in Hamburg that had the audience mesmerized. I will never forget the expression of awe on a young colleague's face who termed the event "the Manfred and Dino Show".

Dear Dino, I thank you for your friendship and the stimulating exchanges we had, for the elegance and warmth which you brought to both. Today as in 1999 at our very first meeting it turns out that I am the one who has the last word – for now. Because I cannot help thinking of that classic scene in Wim Wenders' "Wings of Desire" where Peter Falk, munching a greasy burger roll at a Berlin Hot Dog stand, suddenly startles, smiles and then addresses Gabriel, the invisible angle: "I cannot see you. But I know you're there. Compagnero."
Chris